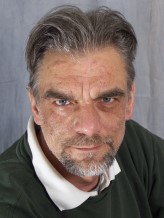 In 1969 My grandmother meant,
I should be an artist;
She couldn't know
how long that takes.
Bio
I painted always, not necessarily since 1964 but a short time later. After all, my grandmother said in 1969 that I should become an artist. Whatever she wanted to say to me, it's one of the first memories I have.
After a short promotion by my art teacher in the 70s, I did not really get involved with painting again until I was looking for a job in the 80s. I did not made a profession of my interest in art. The next opportunity to dedicate me to the topic of art, was in the middle of the 90s and around the year 2005. With the concentration on the essential things since 2015 I am now on going.
I paint in oil, acrylic, pastel and appreciate the characteristics of charcoal for the quick grasping of an idea. I work according to my own sketches, increasingly using foreign material (photos and film pictures). The preparation is often done digitally. Reliefs, sculptures and sculptures are in plastic or ceramic.
My style: Realism, Fotorealism and Surrealism. Subjects: Still life, portraits and structures. Details and proximity to the object are found in many pictures. Special scenes often require explanation. My pictures seem realistic, some of them photorealistic. Some pictures are surrealistic with a wink. Watch the Statements to keep an eye on my style.
I show some of the pictures in coffees and public facilities. From time to time some also hangs in a local gallery. In the private environment, my pictures have spread quite fine and have even come to Australia (Melbourne).
I am not an autodidact. I had many teachers, but only a few good ones. I am also not really an occasional artist.
Since 2005 I am professionally and financially independent, with a lot of time for painting. Where I had only tried it before, i am now concentrated on the essentials and ultimately freed from incalceration, there is hardly nothing more important to do.
Born 1964 in Uelzen, grew up in Nettelkamp and after "trips" to Hamburg and the Lower Saxony province, I am living, working and painting in Flensburg for several years.
There I "should" remain.
Jens H. Westermann, 2015.
Share:  






    Follow: