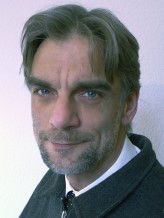 What is DAFP mixed media with finishing *?

Currently (2014) my pictures are mostly DAFP Mix Media on textile and wooden frames with different finishes. DAFP is for me the abbreviation for Digital Art Fineprint, a collection of different steps.
There are 3 types or methods:
Methods:

Digital preparation: Only a sketch is created digitally or an idea is fixed on the tablet, the implementation remains analogous to the medium classic and is subject to the creative process. The texture of the chosen meduim remains fully preserved.
Digital implementation: Not only the sketch, but also the precursors are worked through on the computer, usually printed in monochrome and made available to the analog process. Changes remain restricted to fazasurs, details, elevations and shading overpaintings. The motif can however be supplemented with different techniques, so that in 10 DAFP actually 10 different pictures arise. ** Another benefit, a DAFP can be output in any size.
Digital production: As a full-digital variation the motif is exclusively created on the computer and ready to print. In addition, however, one or the other analogue brush stroke can still follow. This opens up all the possibilities that digital processing brings with it. However, the work is also subject to their restrictions.
I continue to use the classical techniques: oil and acrylic on canvas and wedge frame; Watercolors and watercolor on handmade paper; Chalk and pastel on Ingres paper (possibly with gouache background). Newly (2014), modeling clay and acrylic paste have been added to composite panels (relief). Very slowly I approach the field of sculpture with cardboard masks, polystyrene and acrylic.
Jens H. Westermann, 2014.
Share:  






    Follow: